EDITOR AND PUBLISHER: TONY JASPER
CRISIS appears around the third week of the month. Do note the new name –
It has beome increasingly difficult on the internet to locate the magazine via the word 'CRISIS' and so we try a new tack in the hope! 0h, the regular apology for not giving a run-down of what has appeared in 74 issues. Sometime, soon.
MUSIC
WITH PATTI SMITH PLUS REVIEW OF OLD TIME GOSPEL MUSIC RELEASES
On January 25 of this year, at London's famed Roundhouse venue US rock star Patti Smith put on her glasses and then proceeds to recite the Divine Image by William Blake. Alastair McKAy writing in the music magazine Uncut (April issue, yes April)  is intrigued by her decision to recite a poem in a rock concert that extols and celebrates mercy, pity, peace and love, as the poet entertains and plays with the idea of God being a human construct. The Roundhouse moment passes by.  No newspaper headline like "Rock star interupts concert by talking God". It doesn't attract the attention in the media that say David Bowie achieved when suddenly in the memorial concert for the rock star Freddie Mercury at Wembey he knelt down and recited The Lord's Prayer. That was not a planned moment. It just happened. Perhap Bowie felt there was nowhere else to go in the midst of his grief for a deep friend, if so, say an 'Amen.'
Patti is no stranger to utilising religious language, perhaps the most memorable her song 'Easter' or there is the opening track to her debut album Horses where in unexpected religious vein she sings  the song 'Gloria'. Pope Francis has a liking for her music, and she performed in St. Peter's Square, but when it comes to a more traditional faith understanding and pronouncement she is a considerable way behind say a Springsteen, a Johnny Cash, or U2 and Bono. Evangelicals among you – tread carefully if that is your faith walk. Patti says:" Jesus died for somebody's sins but not mine." It's just that like many contemporary music writers and singer she often falls back into religious comment and imagery.
What though of the man who adorns the cover of that same issue of Uncut – John Lennon? Co-incidentally, and amazingly, it's just over fifty years ago this March month that Lennon uttered the sentence that had him adorning newspaper front pages, and fronting newscasts. Lennon simply said "We're more popular than Jesu now. I don't know which will go first – rock 'n' roll or Christianity". It  all eminated from a 1966 article in the London Evening Standard newspaper. Talk about over – the -  top reaction! Lennon was suddenly the evil man from Liverpool– in the US Bible Belt radio stations stopped playing Beatle tracks, earnest clergymen organised bonfires and invited the young in their flock to deposit their vinyl horrors on to the flames, even  threats to life came from across the Atlantic. The latter intensified when the fab four toured in the US in August of the same year.  Disruption and intimidation, even picketing from the dreaded Ku Klix Klan came their way as they nailed a Beatle album to a wooden cross vowing vengeance, and the US tour was the last they undertook. The Beatles became a studio-only band. Lennon attempted to calm things down and in a kind-of apology,saying "If I had said television was more popular than Jesus, I might have got away with it."  He said he was simply remarking on how some people viewed and popularised the band. Who knows what moved Lennon on that occasion. Lying behind Lennon and Jesus and life there is the arresting comment by son Sean 0no Lennon: "My father wanted to figure out who he was." It would be a claimed 'born again Christian' who in 1980 would murder Lennon, and instanced Lennon's words as the motivation for his action – words that had lingered in his head for over a decade.
As for rock stars and Christian faith make  your way to the album 'Oh Happy Day' – All Star Music Celebration (EMI Gospel). Here is a strong selection of material from artists such as Joss Stone, Al Green, Mavis Staples Aaron Neville, Jon Jon Jovi and Michael McDonald.  One of the great rock testimonies is the song  "In the Presence of the Lord" and given supreme interpretation by Stevie Winwood on the self-titled album from the shortlived memorable rock band of old, Blind Faith. 0h Happy Day includes a worthy take from the band 3 Doors Down with the Soul Children of Chicago. For those into club and floor scene, thus disco land, one of the greatest faith cuts is 'You Got the Love' from The Source that samples Candi Staton and is found on The Pete Tong Collection (Sony). That motors with the speed and power that can leave you limp in its praise shout. It's a great example of how you can shout faith amidst countless general releases and make it count. Fabulous!
Meantime I've purchased and been listening to Blind Wille Johnson 1927-1930 (Smithsonian  Folksways Recordings) . Here is moving testimony from one of the legends of early US Gospel music from the South, so to another gem of early recordings of spiritual music. Preaching The Gospel – Holy Bluesere is simple faithHj (Sony), a compilation set of 20 tracks that take you into a moving religious experience far, far away from more traditional British hymnology. This is pretty raw stuff, mostly guitar and voice, unadulterated, no soothing back-ups, no choirs, no strings, just some husky male voices telling simply what faith means. It has a charm and persuasiveness of its own.
NEXT MONTH A DETAILED LOOK AT THE MAVIS STAPLES NEWIE, 'LIVE IN LONDON.'
MUSIC NEWS NEWS AND NEWS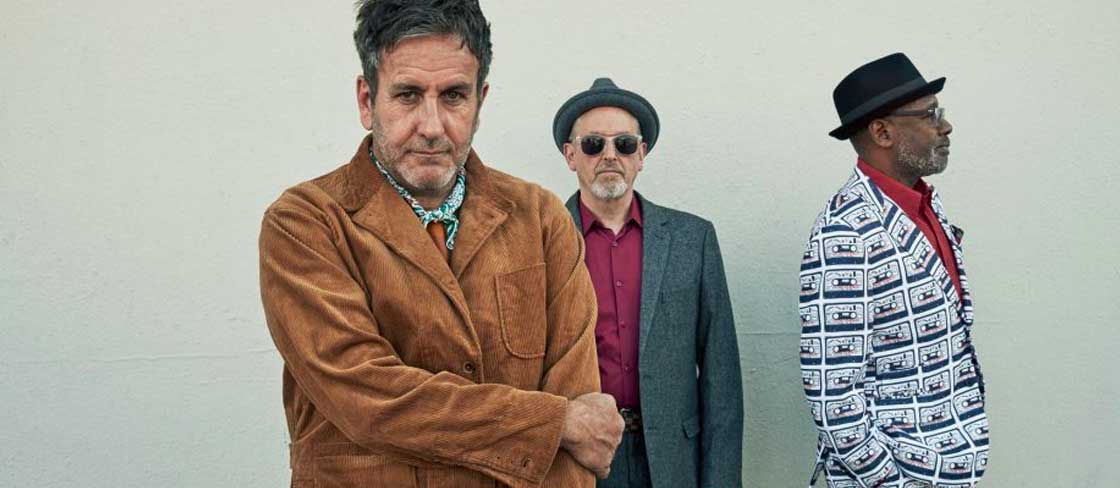 THE SPECIALS return with a double CD, the second entitled 'live' while Disc 1 includes '10 Commandments." 2019 is the 40th anniversary since their first single  Gangsters, as well as the first album. It is the  first since 1980 to feature Terry Hall. There is no Jerry Dammers, once principal songwriter, keyboardist and muical director, architect of 2 Tone. For a while Dammers takes action to block the others from using the group name. Love this album even if the purists keep wanting to compare with the past.
Aretha lives on!  Sunday March 10 on CBS, US, sees coverage of the 2019 Grammy Awards but focussing on the celebration at that event for the life and music of Aretha Franklin, and which deservedly  gains high praise in US music and entertainment magazines. Singer Jennifer Hudson provided the opening medley with a powerful exhilerating quartet comprised of Andrae Day, Brandi Calile, Alessia Cara and Fantasia getting the audience to their feet. There was much more as Celine Dion wowed, and also appearing in the cast of music luminaries:
   Alicia Keys/SZA pairing, to H.E.R . jazzing up 'I Say a Little Prayer' and John Legends, 'Bridge Over Troubled Water."
BOOK
Further to the review in Crisis 73 another  look at the new book on Larry Norman. Prolific music book author and authority  Steve Turner takes a considered look at  'Why Should the Devil have all the Good Music (Convergent.NY) Turner knew Larry well and spent much time with him.
I've just finished reading Why Should The Devil. It's a great read. The writing is accessible but never boring, Greg Thornbury sets the context of Larry's story within its historical period and he makes good use of the archives he's had access to. Individuals such as Randy Stonehill and Pam Norman/Newman don't come off very well but it appears that he hasn't made claims against anyone unless there was serious documentary evidence to back them up. Yet, as much as I couldn't put the book down, it felt like swimming through sewage. There is so much bitterness, anger, infidelity, and resentment and very little love, joy and peace. There's a feeling that everything Larry tried to establish fell apart and everything he tried to achieve ended in failure.
This is sad because Larry's message was that if people invited Jesus into their lives he would forgive and rebuild them. Jesus was, as he sang "the answer". Presented in this book are an individual life and a music empire that was every bit as divided and hostile as that of any atheistic rock star. The cynical reader might ask "If Jesus is the answer to our broken world, how come there was so much brokenness in Larry's world?" I feel the problem has its origins in Larry's attitude to the church. He stressed the individual dealing with Christ alone and thought the church was unnecessary if not harmful. This meant that he never subjected himself to consistent teaching, discipline, fellowship, communion or pastoral guidance and encouraged others to live the same way. Thornbury's great strength is the material he's been able to work with. With an eye on posterity, I'm sure, Larry hoarded letters, contracts, adverts, reviews and even recordings of phone calls and business meetings. As far as I know, nothing like this exists for biographers of the Beatles or Elvis. Larry was simultaneously a performer and a historian evaluating and archiving himself.
I still think Thornbury would have benefited from talking to others to get even more context and to check basic facts. I have a few pages of errors that could easily have been corrected. For example he speaks of early Jesus rock band Gentle Faith when I'm sure he means Country Faith (Gentle Faith wasn't formed until 1974), refers to New Music Express when he means New Musical Express, doesn't know the difference between BBC One and BBC Radio 1, says British punk was 'in the ascendant' in 1981 whereas it was well on the way out, calls Cliff 'Sir Cliff' long before he was knighted and thinks Broken Hill is in Wales rather than New South Wales. He speaks of 'Cliff Richard's country mansion' which was actually a house in the country that Cliff bought and loaned for the Arts Centre Group (a Christian organization) and where arts festivals and conferences were held. It wasn't Cliff's home.
The London prostitute he led to faith met him in Shepherd's Market, not Shepherd's Bush (he was staying in my apartment there at the time and it was a Red Light district). I'm a character in a small section of the book and he treats my comments (made in an unpublished book) fairly although I could have given him more backstory. He says that political aide Mark Rodgers introduced Bono to Larry backstage at a concert but his isn't true. Mark, Larry and I did attempt to do so, at Earls Court, but Bono had to leave straight after the show as his father was dying in Dublin.
The meeting came when Larry emailed me to say that Bono was speaking someone near where he lived and asked if I could arrange a meeting. I contacted Bono who was delighted to link up and later Larry wrote me to say how much he'd loved the time with him. Some of the best bits of the book, and its greatest value to me, come when Larry talks about communication, faith and rock music. During my friendship with him we were both trying to work this out because there were so few examples of people who had achieved what we thought could be achieved. I'm sure Larry would enjoy this book, both because it unravels his story and makes his struggles known and because it's unflinching in its examination.
One can only hope that future generations of musicians can learn the lessons and do some of the same things but with more dignity and less strife
SEEN AND REMEMBERED QUOTES IN 2019
The increasing vocal protestations of athletes....suggest they are more aware that sport is mostly run for countries and administrators...I can only wish an increasingly powerful 2019 to the talent, and a year of greater reckoning for those who leech off it.
Marina Hyde.
Once we searched Google, but now Google searches us.Once we thought of digital services as free, but now surveilance capitalists think of us as free..........
Shoshana Zuboff
For me there's no turning back. If people don't like there's nothing I can do. I'm not going to change.
Tracey Emin
Amid the melodies from the organ and the quiet murmuring of worshippers at prayer, churches will soon be filled with the whirring of treadmills, tapping of keyboards, and tinkle of bicycle bells. Buress, Kaya,
I believe a total unwillingess to co-operate is necessary to be an artist.
Joni Mitchell
Caviar is a sign of prosperity. If you are successful, you can afford caviar.
Armen Petrossian
Don't let the buggers bounce you. It was crucial advice: particularly as a woman in a man's world.
Elizabeth Butler-Sloss
JOKE TIME
A mother called to her son on Sunday morning and said,"Son, it's time to get up. This is Sunday morning. Church begins in an hour and a half. I'm fixing your breakfast." The son just murmured, put the pillow around his head and went back to sleep. She called him again, "Your breakfast is ready. It's an hour until church." He murmured again and rolled over and went back to sleep. She spoke a third time saying, "It's only 45 minutes to church time. It's time to get up. Your breakfast is cold."
Finally she came up to his room and said, "Son! It's time for you to get up. Ypu have to get up now and get dressed to get to church on time." He grumbled, "Why do I have to go to church? The people aren't friendly. The]e music is terrible. The sermons are dull. I can't stand it."
She said to him,"You know why you have to go. You're 40 years old, and you're the preacher."
NOTICEBOARD

STEWART HENDERSON  -  Vesper Sky in Concert With Stewart and Carol Henderson and Yvonne and David Lyon
Saturday 13th April, 7.00pm for 7.30pm, Christ Church, Esher, Surrey KT10 8QS.
Best selling poet, lyricist and broadcaster, Stewart Henderson with his wife, writer and apprentice iconographer, Carol Henderson, have collaborated with Scottish musicians, Yvonne and David Lyon on the already critically acclaimed album, Vesper Sky - 'a unique collection of songs and poems, tellingly nuanced performances' folkradio.co.uk Following extensive BBC Radio airplay on Tom Robinson 6Music, Radio Scotland, Wales and Foyle, and many independent stations, this quartet of outstanding artists are currently on the road North and South of the border.   You can catch them at the above gig, as indicated.
Tickets: £10 if pre-booked via www.stewart-henderson.com or £12 (cash only) on the door.
….'the cadence and collusion of voices…is a glorious success'
Northern Sky Magazine.  
Following Yvonne Lyon's two successive appearances in 2018 and 2019 at the prestigious Celtic Connections in Glasgow, it is no wonder that BBC Radio Scotland's Iain Anderson says of her 'listening to Yvonne is a life-affirming experience', whilst Gillian Reynolds, radio critic of The Sunday Times notes of Stewart Henderson, 'he understands the packed power of words; the importance of their use and measure'.

WINTERSHALL PASSION OF JESUS
The Passion of Jesus will be performed in Trafalgar Square on the 19th of April at 12 noon and 3:15 pm and Guildford High Street on the 20th of April at 12 noon and 2:30 pm.
Both performances are free.
Call For Volunteers
Please email admin@wintershall.org.uk   if you can volunteer to help on all or some of the day. Transport is available from Wintershall if required.  
Live Stream In Trafalgar Square, there will be a live stream of both performances and live streaming can be arranged with your congregation/group/friends.
For more information on how to do this please contact Wintershall Estates: Tel 01483 892167  or email  admin@wintershallestate.comhttps://www.wintershall.org.uk/passion-jesus-london

UNVEILING ARTS FESTIVAL
10-11 May
The Unveiling Arts Festival exists to engage people in a deeper understanding of the Gospel and the heart of God by sharing insights through the creative arts, relating to specific themes. A select group of artists are assigned the same brief, which they will consider prayerfully before creating original art in response.
The Engine Room, Lebus Street, London, N17 9FU.
To book tickets please visit:
https://event.bookitbee.com/20990/unveiling-arts-festival-2019
More information can also be found on their Facebook page:
https://www.facebook.com/UNVEILINGFestival

CHRISTIAN ARTS SEMINAR
21 July  - 1 August
This 38th International Christian Artists Seminar will be an EU seminar fully focused to find work and keep working as artist of any art form. Subjects include: how to take care of yourself (avoiding health risks), the value of life long learning in helping to secure work;  the question of whether you still have job satisfaction, what will be your unique call, talent and added value?  It will be both a theoretical and very practical seminar with lectures and debates including very interesting meetings with artists who have survived and are ready to speak about their secrets and answers, followed by 2 days of unique workshops in any form of art. 
Zonheuvel Estate, Doorn, Utrecht, The Netherlands.
For more information and booking visit their website:
http://www.christianartists.org/    or email   info@christianartists.org

MORPHE ARTS MAKE GOOD LECTURES
4 March Sara Schumacher, tutor and lecturer in theology and the arts at St Milletus College, London.  
1 April Carol and Stewart  Henderson.
6 May tbc
3 June Adrienne Dengerink Chaplin.
7-9pm, Husk Coffee and Creative Space, 649-651 Commercial Road, Limehouse, London, E14 7LW.
Tickets £5/£8. Keep and eye on Morphe's Facebook for moreinformation nearer the time:   
https://www.facebook.com/groups/morphearts/

ART+CHRISTIANITY SYMPOSIUM
Art+Christianity presents a series of symposia exploring the Eucharist in relation to art, architecture and craft. Each symposium will act as a 'sounding', taking place in a different regional centre and feeding into a conference in London in November.  The symposia will draw upon collections of ecclesiastical art and design as well as the architecture of  sanctuaries and chapels set aside for the celebration of the Eucharist.  
§Symposium 3: Conversations between ancient and Modern.
Saturday 2 March 2019, 10.30am – 4.30pm, Chichester Cathedral and Bishop's Palace. Chaired by Nicola Coldstream.
This third Visual Communion symposium, will look at ways in which modern art and architecture can engage with ancient buildings and traditions in such a way that it enriches and enlivens both.
Symposium 4 Altars: Texture and Tradition.
Saturday 18 May 2019, 10.30am – 4.30pm, Winchester Cathedral Education Centre and Cathedral. Chaired by Roly Riem
For more information please visit:  
https://www.artandchristianity.org/v-c     or Tel 020 3757 5492   

ASSOCIATION OF CHRISTIAN WRITERS
Bath Writers' Day 9 March  -  Approaching a Publisher.
Sarah Grace and Nicki Copeland, both with a wealth of experience within the publishing world, will be sharing their experiences and giving advice on how to find and approach publishers within both the fiction and non fiction markets.
10am-4pm, Widcombe Baptist Church, Pulteney Road, Bath, BA2 5JR.    
Members: £22 pre-booked, £27 on the door.
Non-Members: £27 pre-booked, £32 on the door.
Cost includes drinks and snacks. Bring your own lunch.
You can pre book here: https://christianwriters.org.uk/events/
RIDING LIGHTS THEATRE COMPANY
Riding Lights Theatre Company is pleased to announce a revival of their acclaimed passion play The Narrow Road by Paul Birch, during the season of Lent 2019. Amid the heat and beauty of ancient Palestine, a man stands on a dusty road. An extraordinary journey will take place, retracing the footsteps of Jesus through a world of miracles and madness, violence and liberation. As the Narrow Road is walked, this turbulent world is turned upside down and its inhabitants confronted by an unexpected and surprising vision.
Touring March and April in venues in the UK including Croydon, Wallsall and Stroud.
For the complete tour please visit the website : https://ridinglights.org/ Or telephone 01904 6515
---
GARTH HEWITT FOUNDATION: FROM GARTH
Pope Francis affirms Ernesto Cardinal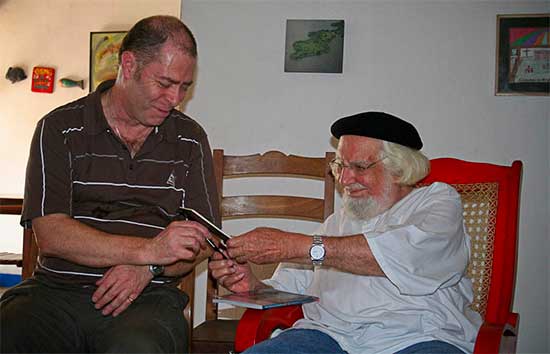 Garth with Ernesto Cardinal
On our trips to Nicaragua one of the people we have met is priest and poet Ernesto Cardinal. He's an extraordinary man – one of the world's leading poets, and he was in the original Sandinista government. But Pope John Paul II banned him from celebrating mass for refusing to leave the Sandinista government. There is a famous finger-wagging picture as you can see below - when Pope John Paul II told him off.
Pope John Paul II telling off Ernesto Cardinal
But now Pope Francis has cancelled the sanctions against him and he is allowed once again to celebrate the Mass. 
It was very good to meet up with him – I remember Chris Rose (now Director of Amos Trust) was also with us on that visit. Ernesto was a little grumpy at first with our questions but when he realised we were involved and supportive of music and the arts he was delighted and started to show us his art and sculptures as well.
Ernesto has talked about his vocation and the influence of Thomas Merton: "I was ordained a priest to come and establish the community here at Solentiname (a group of three islands towards the southern end of Lake Nicaragua). It was Thomas Merton who gave me the idea."
Thomas Merton was Ernesto Cardinal's spiritual director, and said of him "He has one of the rare vocations we have had here at Gethsemani (monastery in Kentucky) who certainly and manifestly combined the gifts of a contemplative with those of an artist." 
Ernesto says, "Thomas Merton had been a monk for twenty years and had written a great deal about that life … and he wanted to found a different type of contemplative community outside the US."
On one of our other trips we were able to go and spend some time in Solentiname.
Ernesto is now 94 and not very well, but it was a joy to meet him and be inspired both by him and the community of Solentiname – it is encouraging that Pope Francis has affirmed him. Several of his poetry books have been translated including the extraordinary "Cosmic Canticle".
We asked Ernesto if he liked the term "liberation theology" and he said, "I prefer 'a theology of revolution'", which we thought was probably a suitable description of the Sermon on the Mount.
Poets of Nicaragua
My song Poets of Nicaragua was written on a quiet day in Solentiname (a quiet day for me - the others were off doing energetic activities!) The song starts off with the words In the silence of Solentiname accompanied by birdsong, where artists keep painting and poets keep writing - this is a reference to the Community of Solentiname, who had been using folk art and creativity following the inspiration of Ernesto after his arrival there.
I go on to refer to some of the history of the island and then some other people in Nicaragua, poets and artists, and in particular Carlos Godoy, probably Nicaragua's leading musician. I mention this was where Ernesto Cardinal built the church of liberation and where Carlos Godoy wrote the Misa Campesino, which was a tremendous influence right across Nicaragua, and he performed it first in the church in Solentiname.
The fact that Carlos Godoy has recently had to flee the country, to Costa Rica, indicates that all is not well in Nicaragua at the moment. Even way back when we were talking with Ernesto he told us that he was forming another party because he wasn't happy with where the Sandinista government was going. So our thoughts and prayers are very much with our friends and partners in Nicaragua. It is a delight that Damaris Albuquerque and Gilbert Aguirre of CEPAD (a council of churches development programme particularly working in the rural communities of Nicaragua) will be visiting Amos Trust later this year for Amos Day and events around that time.
Poets Of Nicaragua
In the silence of Solentiname - accompanied by bird song 
Where artists keep painting and poets keep writing 
And faith has been framed by the blood of the martyrs 
From Isla Mancarron to Isla San Fernando 
From Isla La Venada - breathtaking beauty 
Also named to remember Elvis Chavarria 
And Felipe Pena and Donald Guevara 
Who laid down their lives in the struggle for freedom 
Where Ernesto Cardenal built the Church of liberation 
Where Carlos Godoy wrote the Misa Campesino 
So I raise a glass for songwriters and artists 
And the poets - of Nicaragua.
Standing on the roof of the Cathedral at Leon 
With the line of volcanoes stretching before you 
Volcanoes and poets erupting with passion 
Like Ruben Dario and Alfonso Cortes 
In a land on a journey to remove the oppression 
Where Bartoleme de las Casas appealed for the people 
Where Dora Maria went on a hunger strike 
On behalf of the poor - on behalf of the nation 
Where planting and health bring hope to campesinos 
So I raise a glass for teachers and doctors 
And liberation priests and community workers 
And the poets - of Nicaragua.
In the silence of Solentiname - interpreted by bird song 
Where dignity was born from the womb of simplicity 
And justice will come as the fruit of humanity 
And daily survival arrives with creativity 
With painting on canvas and crafts full of colour 
By Rodolfo Arellano & Rosa Pineda 
Eneyda Castillo and Elba Jimenez 
And we take our lesson from the voices that echo 
From a country that listens to the words of its poets 
And the songs that are born in the heart of its singers 
From Luis Enrique to Katia Cardenal 
And the poets - of Nicaragua.
Where Ernesto Cardenal built the church of liberation 
Where Carlos Godoy wrote the Misa Campesino 
So I raise a glass for songwriters and artists 
And the poets - of Nicaragua.
Lent with the Generous God of Mercy
As I write this (Shrove Tuesday) we are about to enter Lent. On 'Thought for the Day' this morning Canon Lucy Winkett talked of the significance of Shrove Tuesday – Lucy, who is a previous Chair of Amos Trust, is the Rector of St James Piccadilly, which regularly hosts Amos events. This links you to The Today Programme on Shrove Tuesday at the 1.48.30 point where Lucy is introduced 
It's worth having a listen - it will be available on this link for about another three weeks.
This Lent it looks as if we will be leaving the European Union and maybe it's good that we should approach this event in a penitential spirit because whatever our views on this, there is no doubt that it looks as if we are cutting off many relationships and pulling up the drawbridge. It is sad that the hostile environment which has been fostered internally in Britain seems now to be reaching further. I'm sure that many of us in our church communities will find ways to reach out to show an attitude of friendship and acceptance particularly to asylum seekers and refugees.
I'm grateful that Gill and I are able to worship in a church which welcomes diversity in all shapes and forms, and constantly refreshes our understanding of the generous God who affirms us and refreshes us.
I am in the process of putting together an EP (extended play – this is basically a mini-album of four or five songs!) One of the songs is called To the God Whose Name is Mercy and in the chorus it says 
To the God whose name is mercy 
To the generous God of mercy 
We take our stand with you
In the verses I use some words sparked off by Thomas Merton
So tell the earth to shake with marching feet 
Of messengers of peace – Proclaim my way of love 
To every nation and every race – 
Show mercy and show love
Tax and the Common Good
Wed, 10 April 2019 
18:00 – 20:00 
St Mary-le-Bow Church, Cheapside, London, EC2V 6AU
One of the things that I enjoyed when I was Guild Vicar at All Hallows on the Wall was the organisation Just Share; based at St Mary-le-Bow, it puts on regular talks and events on issues of money and justice. It is a challenging and prophetic dialogue in the City of London.
Their next meeting is Tax and the Common Good, on Wednesday 10th April 2019 at 6pm-8pm - well worth going to. One of the speakers is our very good friend David Haslam who has been committed to issues of tax justice for years and is a prophetic voice on this issue.
For several years he's been trying to get me to write a song on tax justice - in fact I think he's even written most of the lyrics! - apologies David, maybe this event will tip me over to writing it!
The other two speakers are Father Simon Cuff and Ann Fairpo - here's a link to more details and you can register to attend on there too.
The Day the Prophets came to Davos
At this year's World Economic Forum at Davos several people spoke very challengingly to the assembled billionaires. One who caught the media attention was Rutger Bregman, who spoke prophetically about the benefit of tax. It's worth following this link to see what he was saying.
Prayer for Lent
Generous God of mercy 
In this season of penitence 
We ask for forgiveness for our country's espousal 
Of a hostile environment to refugees and asylum seekers
We also ask forgiveness for our commitment to the arms trade 
With all the devastation that causes 
Not least in causing more refugees 
Trying to escape from brutal and unnecessary wars
May our churches be communities 
That treat people with equality and dignity 
Caring for all and showing love in action
May our vision be renewed this Lent 
To see the great hope of the wounded God 
Who walks beside us 
And encourages us to become communities 
That are wholistic and just 
And become strong witnesses in our communities 
That make a difference